Let's talk reception design!  In this blog we'll look at the elements you'll need to host a spectacular wedding reception that is unique to your style and dazzles your wedding guests. Thru our real wedding images, we hope to inspire you with some of the best reception table designs we have crafted for our Floral V Designs clients.
Tall centerpieces are an eye-catching way to complement your venue and create a "WOWIE" moment for you and your guests. These lush designs are essential for setting the tone of your reception, adding drama, and displaying your signature style. A tall centerpiece's style and elements can vary greatly depending on your vision, goals, and venue. Fortunately, we have fantastic design team that loves creating stunning elevated centerpieces for each couple's dream wedding. Nothing could be more spectacular!
Our first example, is from a reception at Green Acres Foundation in Cincinnati, Ohio.  It shows how powerfully tall centerpieces command a room, or in this case a tent. As your guests enter the tent, their gaze is drawn around with the help of these magnificent fixtures. To add visual weight to the layout, we counterbalance the centerpiece's height with Southern Smilax garlands draped from the ceiling and the parameter of the tent. The result is stunning!
Photography by Amanda Donaho – Planning and Design by I Do Weddings and Events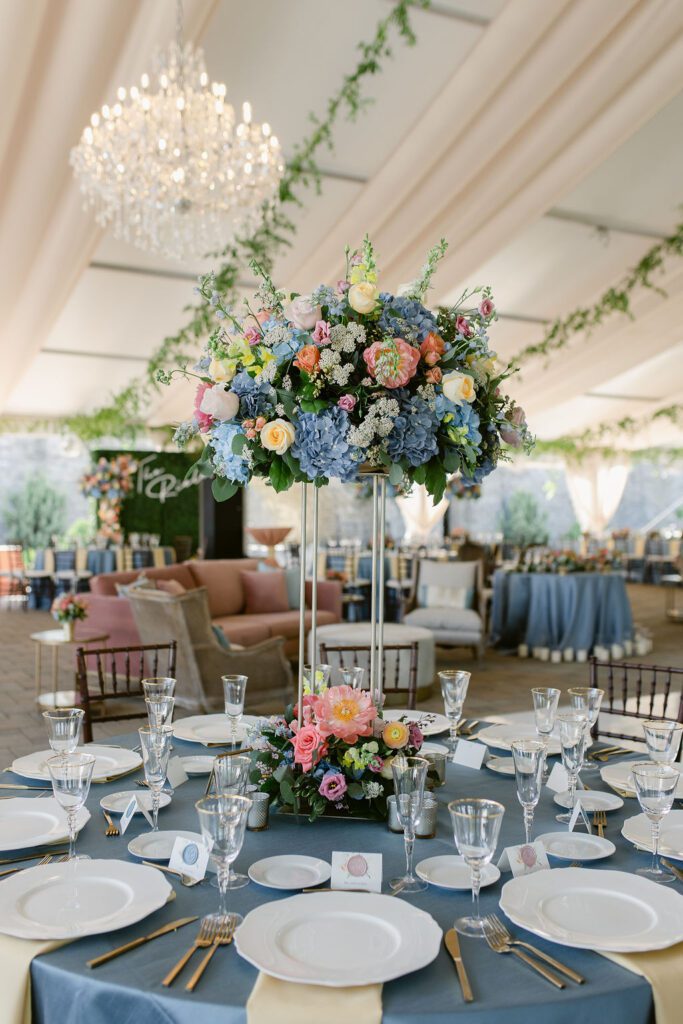 In this next example, we travel to Kenwood Country Club in Cincinnati.  Creating centerpieces that enriched the Country Clubs design was a key consideration for our team. The Floral V Designs team developed distinct floral arrangements for all the guest tables.  Beautiful, tall, garden-inspired centerpieces filled with light blue and white hydrangeas, champagne and blush roses adorned the 40 inch glass Bespoke vases that sat atop the periwinkle satin linens.
Photography by Brit Jaye Photography – Planning and Design by KMC Weddings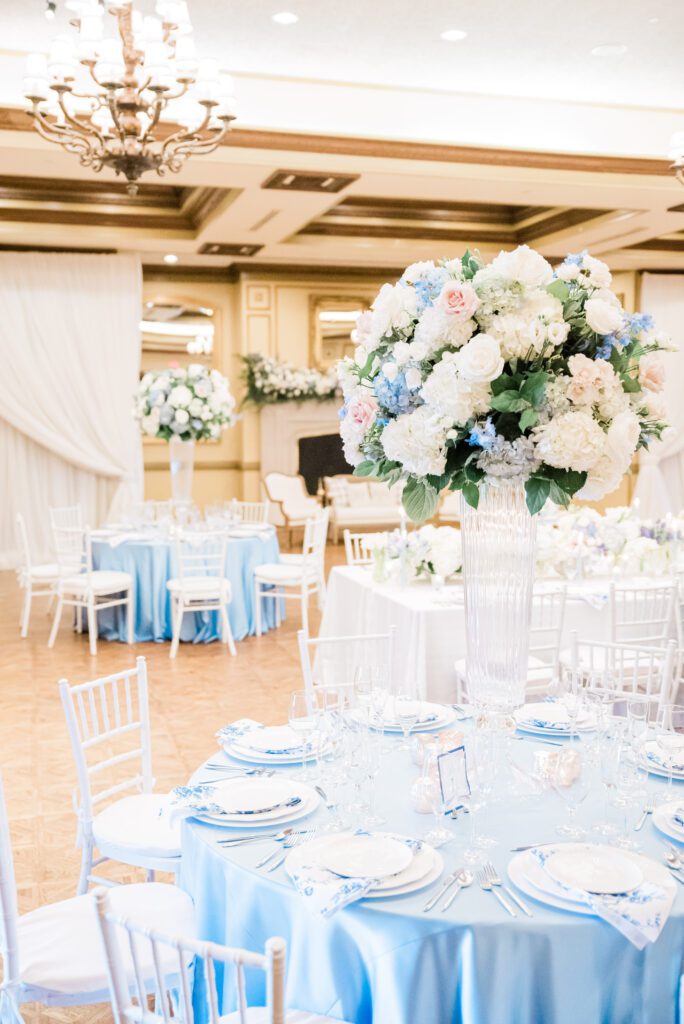 The Hilton Netherland Plaza is a fabulous French Art Deco hotel built in 1931. Creating centerpieces that enriched The Hilton Netherland Plaza's architecture was very important to our Bride and Groom. Because the room is so dramatic and the ceilings are so tall, we went BIG to showcase the beautifully dressed tables! Floral V Designs placed distinct floral arrangements for not only the guest tables but also on the head table. To add to floor to ceiling mirrors in the "Hall of Mirrors" ballroom, we chose tall and extra tall trumpeted, minimalist metal stands, and completed the head table design with with tall, slender, contemporary candelabras topped with LED taper candles. Tall, white and blush centerpieces of white hydrangeas, blush roses and white orchids adorned the guest tables.
Photography by Lindsey Zitzke Photography
This colorful reception in the Transept in Cincinnati with Funkys Catering is a visual delight. Two different types of yellow-toned centerpieces adorned this beautiful feasting table, complementing one another over and over. The first is a traditional, rose centerpiece adorned with apple blossom branches, snapdragons, stock, spray roses and of course hydrangeas all seated on a gold Harlow stand. The second centerpiece was a 24 foot floral garland, that sat  directly on the table. It mimicked the tall centerpiece flower and style.  Tall glass candlesticks held floating candles along with gold mercury glass votives were peppered into the flowers. The overall look is luxurious with the addition of flowers and candlelight at the base of these stunning pieces.
Photography by Brittany Bays Photography – Design and Planning by KMC Weddings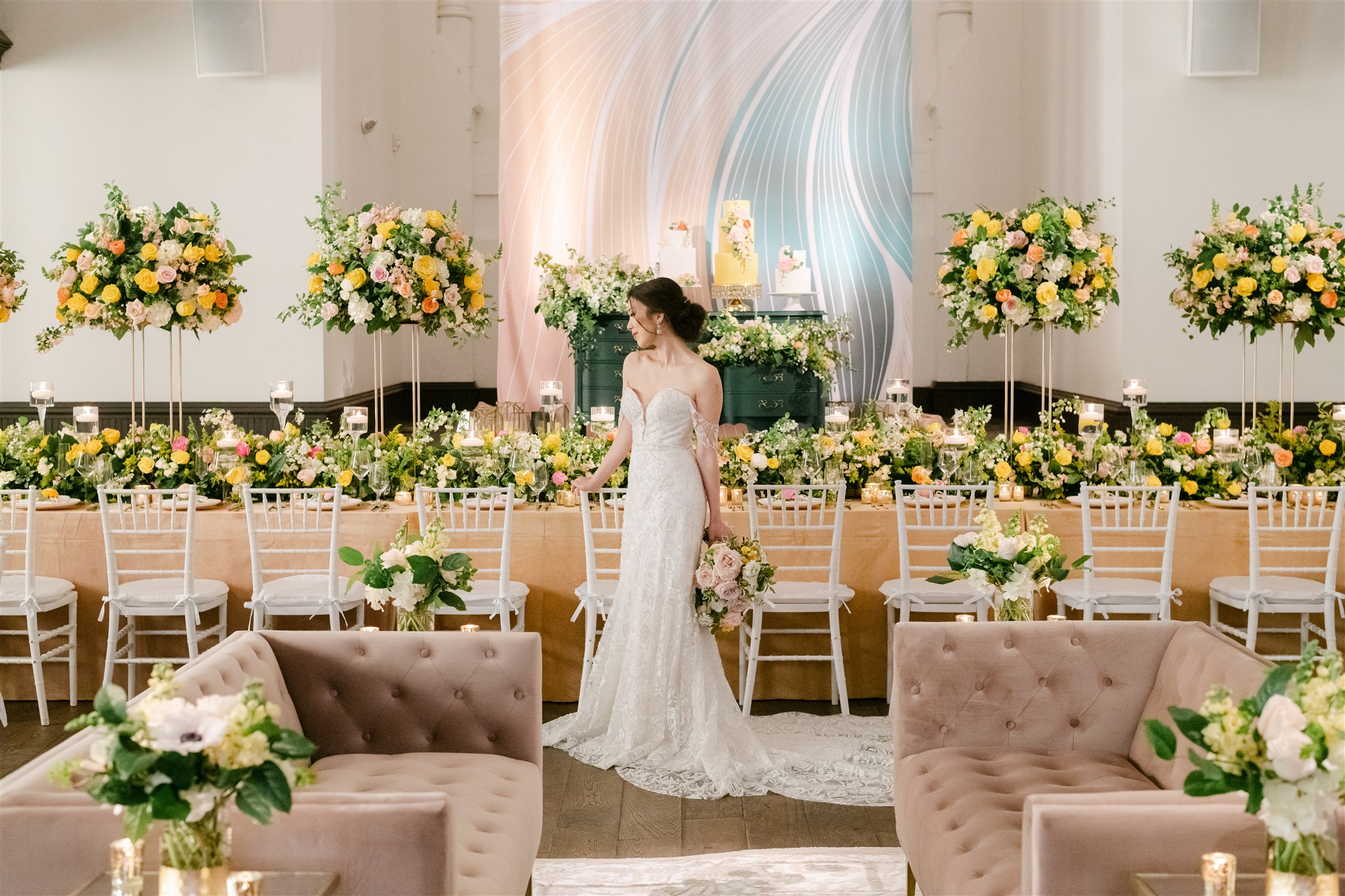 At Floral V Designs we LOVE the creative process and embrace the vision of all our clients. We hope you enjoyed this showcase of some of our favorite tall centerpiece designs. Stay tuned for NEXT MONTH'S Floral V Designs Blog as we continue our three-part series and talk about other centerpiece styles.