Hello from our floral family!
Floral V Designs started twelve years ago when Cady Vance realized Dayton and Cincinnati couples and vendors deserved a different floral experience.  Building a company based on genuine relationships, craftsmanship, quality, and open communication, Team V has grown to almost ten full time employees.  We also have an amazing network of part time team members and freelancers from all over the country that add some extra floral magic on large wedding and event installations.
We're serious when we say that all of our clients become honorary members of Team V, and we look forward to working with you.  Go Team V!
Welcome to Floral V Designs!  I'm Cady Vance the owner and lead floral designer for Floral V Designs.  Thanks in part to my amazing clients and team, Floral V Designs has become the leader in the bridal and wedding floral industry in Dayton, Cincinnati, and Columbus, Ohio.
We only order the most amazing, fresh, sustainably sourced flowers, and never compromise on quality or service. All of us at Floral V Designs want you to enjoy your wedding planning experience from start to end, and will happily collaborate with you wherever you are in that process. You'll soon find that we've become an integral part of your wedding day far beyond just flowers.
When I'm not busy at the shop designing wedding flowers, I can be found on my little homestead.  I consider myself a budding farmer, and it brings me great joy to be in the fields or the barn with my husband and three kids.  You never know what we have going on around the farm from raising baby goats, feeding chickens or riding our beloved Rocky Mountain Horses. It's truly our happy place! You can follow along with our farming adventures at Glory and Grace Homestead on Instagram.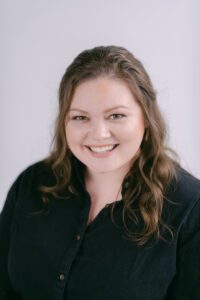 Lauren Hulla
General Manager
Kimberly Lewis
Lead Wedding Designer
Kristin LeMaster
Client Experience Manager
Heather Hung
Floral Designer
Brittany Cousineau
Preservation Specialist
Tasha Hollingsworth
Preservation Specialist
Kate Breeding
Floral Designer Free
Did you know that the average boutique florist can produce over 21,000 pounds of organic material in just one year? All of this is currently going into landfills. If you multiply that by thousands of floral designers nationwide, the amount of waste from flowers is mind boggling. Therefore, we have made it our mission to have a greener footprint in Dayton.
We work with a local landscape company which accepts all our organic matter, that is then turned into mulch and compost. Just think, you could be landscaping your yard with our organic matter and not even know it. How cool is that?!
Another way we reduce waste is by not buying delivery boxes, instead, we upcycle the delivery boxes from our suppliers into beautiful boxes for your personal flowers.
Our commitment hasn't stopped there either, we have also replaced the use of paper towels in our boutique and design studio with washable cotton towels. This is how we save the earth from hundreds of pounds of paper towel waste each year.
So while we may create a lot of beauty in this world, it's also our mission to keep the world as naturally beautiful as possible in the process.
As a budding farmer, Cady knows that fabulous floral design starts at the source: The Farm & Grower. Floral V Designs has had a longstanding commitment to not only provide the freshest flowers possible, but also blooms that have been sustainably sourced. As often as possible we work hand-in-hand with local farmers to provide the best seasonably available flowers harvested at their peak. By purchasing from local Dayton and Cincinnati, Ohio farmers and responsible growers, we ensure the absolute best product for our clients, while ensuring future generations will have just as beautiful and plentiful flowers to enjoy. We even have taken it a step farther and planted our own garden that provides gorgeous fresh flowers all season long.