Photography by Sarah Babcock Studio – The Dayton Arcade – Nuage Linens – Table Top by Prime Time Party Rental – KMC Weddings
If wedding flowers are a top priority for your wedding day, you'll want to hire an event florist who specializes in wedding work. There are different types of florists with different areas of expertise. Your local flower shop can design bouquets and centerpieces for you, but they probably don't offer the extensive rental selection a wedding florist does.  Elaborate custom pieces probably aren't an option. The type of florist you'll want to work with depends completely on your vision for your wedding flowers!
At Floral V Designs, weddings are our passion, and our team has years of experience creating custom designs to reflect our couples. Cady, Lauren or Kim sit down with each potential client to discuss their wedding day wish-list, priorities, and budget. We will create a proposal specifically tailored to that couple. The proposal is just the beginning, however: weddings are productions that require a great deal of time, skill and effort to bring a couple's vision to life!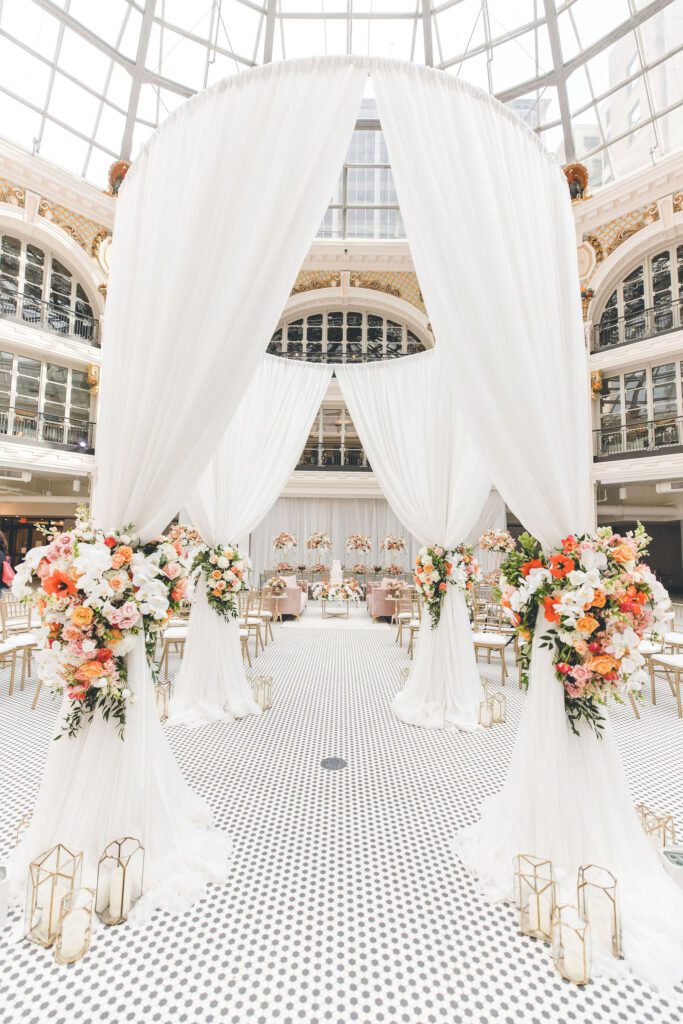 Photography by Sarah Babcock Studio – Draping by Unlimited Events – Dayton Arcade
Design and Planning by KMC Weddings
When you hire an event florist, you're investing in a product and a service. It all starts with consultations, crafting custom proposals, sketching concepts.  From there we answer questions and changes throughout the planning process. Next we design and set the wedding, flip the ceremony, and tear down the event.  As you see there is a lot of time and skill that goes into making a wedding event!
Many wedding florists, like Floral V Designs, are actually floral and event designers. This means we are often involved with the overall design of a wedding, and not just the flowers. We love collaborating with décor companies, lighting techs and wedding planners.  This way we can ensure all visual elements of the wedding work seamlessly together.
Our team regularly creates custom backdrops, ceremony structures and other large floral installations. We also help many of our clients with linen selection; this involves pulling swatches and ordering samples.  This process usually involves us hosting a mock-up to help the client select their favorites and see their flowers before the day of. These things all take time, experience and skill that must be accounted for in your florist's fees.
Photography by Sarah Babcock Studio – The Dayton Arcade – Nuage Linens  – KMC Weddings – Lost and Found Event Rentals
Floral designers hone their craft over years of training and experience, much like a master carver or concert pianist. Watching Kim design a bouquet from a pile of loose stems is truly mesmerizing.  While she makes it look easy, it most certainly isn't! Even the most seemingly haphazard, organic designs are created with thought and precision. In fact, these types of designs are often the most time-consuming. So the next time you see a gorgeous bouquet, take a moment and appreciate the time and talent it took to create it!
Photography by Sarah Babcock Studio – The Dayton Arcade – Nuage Linens – Table Top Prime Time Party Rental – KMC Weddings
People think florists just get to play with flowers all day.  In reality there is a lot of hard, physical work that goes into bringing Instagram-worthy weddings to life! By hiring an event florist like Floral V Designs, you're investing in not only beautiful floral designs, but also a team who is dedicated to taking the stress out of the planning process.  Ensuring you can relax and enjoy your wedding day. So while wedding flowers might seem expensive at first glance, just remember that there is a lot that goes into something that looks so effortless!