Summer Wedding at Green Acres Foundation
Step into a summer wedding at Green Acres Foundation, where vibrant blooms and whimsical details create an unforgettable celebration. Join us behind the scenes for colorful inspiration and the essence of the season. Discover stunning floral arrangements, classic bouquets, and captivating installations that reflect the beauty of summer.
A Burst of Color
Embrace summer's radiant charm with a palette of vibrant pink and yellow blooms that infuse life and energy into the venue. From bouquets to centerpieces, these lively hues evoke celebration and happiness, complementing the lush greenery of Green Acres Foundation.
Classic Elegance in Bouquets
Crafted with timeless elegance, round bouquets showcase carefully selected blooms in a stunning composition. Bright and cheerful, these arrangements exude sophistication as the bride gracefully walks down the aisle.
A Statement-Making Floral Installation
The breathtaking hanging floral installation captivates as it adorns the reception space. Cascading vibrant blooms create a whimsical centerpiece that transforms the room into a magical oasis, enchanting guests and leaving a lasting impression.
Personalized Touches: The Hedge Wall
A magnificent hedge wall, adorned with the couple's names and a charming floral piece, adds a personalized touch. This backdrop captures precious moments while symbolizing love and unity, elevating the venue with elegance and significance.
Drawing Summer Wedding Inspiration
This summer wedding at Green Acres Foundation inspires vibrant and joy-filled celebrations. The color palette, classic bouquets, and show-stopping floral installations embody the essence of summer. Vibrant blooms bring warmth and happiness, while personalized touches add uniqueness and flair.
Designing florals for this unforgettable summer wedding was magical. The color palette, classic bouquets, mesmerizing installations, and personalized details create an atmosphere of pure joy, love, and celebration. Let this glimpse into our creative process and summer-inspired elements ignite your imagination as you plan your enchanting celebration of love.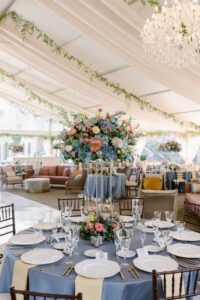 Venue: Green Acres Foundation
Photography: Amanda Donaho
Planner: I Do Weddings & Events